The 17th Midsummer Munro
Association of Running Clubs permit ARC22/025 (2022)
Entrants from 2020 will automatically be entered for the Midsummer Munro 2022.
Please note that there is no parking at the top of Box Hill for runners - Parking will be at the bottom of the hill. Full details will be provided.
Entry is £45 and includes race t-shirt, medal, momento and post-race picnic.
Sorry, entrants after 19 May will not have their names on the race t-shirt, due to long production schedules!
Register to receive Trionium race news
Midsummer Munro 'Best in the UK'
The Midsummer Munro 2008 was named the best race in the UK in 2008 (of a total of approximately 2500 races) by runners voting on Runner's World (as published in the February 2009 edition).
The race has since regularly placed in the annual top five trail or half marathon lists of Runner's World.
A 'gratuitously difficult' half marathon with heigh gain/loss of more than 3000 feet - equivalent to a Scottish Munro - an 'ultra-half'
A run for very hearty man fellows and lady fellows, mostly on rough tracks, and including superb views over the North Downs, the Mole Gap, Denbies Vineyard, and Dorking.
"It's only fun if you are not trying hard enough..." 3680 feet up, and 3680 feet down....
Course on Garmin Connect (Sean Parry)
Course records:
New Course (2018 onwards): Men: Christopher Peck, 37, Waverly Harriers, 1:51:46 (2019); Ladies: Laura Kaye, 25, Victoria Park & Tower Hamlets (2019) 2:07:42
Old Course - Men: Chris Bradfield (Datchet Dashers) (2007) 1:40:09; Ladies: Louise Curtis (2009) 1:58:20
---
16th Midsummer Munro 2019
Great running in increasingly humid conditions!
On what had started (at 4.45am) as a chilly morning, 195-or-so runners assembled on the newly-fresh Old Fort at Box Hill (major infrastructure works were underway to replace the disfunctional sewage digestor which had previously given the area its 'special aroma'). On the dot of 8am, the runners set off to attempt the toughest half marathon in Britain, with ten ascents of the Box Hill - and ten descents - on rough paths and trails and hundreds and hundreds of steps. As the morning wore on, it became increasingly hotter and humid, which became energy-sapping as the hills rolled by.
But this did not seem to tax the runners too much.... with six runners going under the previous year's course records, two for the ladies and four for the gents. For the ladies, Nicki Aitken of Reading Roadrunners was third in 2:26:55, and local lady Claire Whittaker was second in 2:18:54. However, smashing the ladies' record by around 20 minutes was Laura Kaye of Victoria Park & Tower Hamlets, in 2:07:42. For the gentlemen, Eoin Brady of Herne Hill Harriers was third in 1:53:43. Swapping the lead at least six times in the last mile of downhill and uphill were the two top male runners: Ben McGeown of Kent AC was just bested, finishing second in 1:52:04, while digging deep and managing to get 18 seconds clear was Christopher Peck of Waverly Harriers, knocking 8 minutes off the course record, finishing in 1:51:46. Good effort lads... good effort all!
THANKS TO THE WONDERFUL MARSHALS
'10 reasons why I love the Midsummer Munro' by Sean Parry
Quotes of the day 2019:
'Thanks again for another brilliant race and a huge thank you to all of the amazing marshals. Everyone – runners and marshals – were so friendly, the race was so well organised, and the route was VERY tough, but very interesting – it all mounts up to a superb race!' Claire Whittaker
'Couldn't have loved this more. Thank you so much. Will def be back next year!' Fay Wyatt
'It doesn't get any easier. Still brutal. Not sure why I thought it would be otherwise.' Karl Murphy
'A huge thankyou to Rob and his great team encouraging everyone around this most epic and brutally challenging of courses – a great way to spend the morning of your birthday!' Neil Berry
'Certainly one of the toughest, if not the toughest, races out there but the scenery more than makes up for it. Brilliant trails and tough hills throughout so don't come expecting a PB! Despite the difficulty of the course the atmosphere is warm and very inclusive. One of the best races in the calendar.' Ben McGeown
'Steep. Very very steep. Bits of this were like labour, when the first epidural wasn't working....but with jaffa cakes. And somehow, it's the best thing I've done in the past 11 months (baby's 11.5 months old). It was awesome. Biggest grin. Biggest achievement.' Hollyberry79
Midsummer Munro 2019 results (they are there - if you cannot see them, make sure to refresh your browser window/dump your cache).
See ratings on the Midsummer Munro 2019 (Runner's World)
Rate the Midsummer Munro 2019 (Runner's World)
Midsummer Munro 2019 'quick and dirty' video on YouTube
Our photos of the Midsummer Munro 2019 (photo credit: Gaz Davies) on Flickr
Steve Rencontre's photos of the Midsummer Munro 2019
Steve Rencontre's photo-story of the Midsummer Munro 2019...
Send us your links! (rob@trionium.com) - Interested to get a good race altitude profile graphic...
Did you like the wooden medals? They're made in the UK (rather than being made in China, from metal, and flown to the UK). Wooden medals are approx 50% more expensive than metal ones. Let us know (rob@trionium.com)
'I thought the wooden medals were great and much more in keeping with environmental good practice, being made in the UK. I'm sure entrants wouldn't mind you adding a bit the entry with this in mind.'
'I do love the wooden medal!'
Adam Wall earned this year's wooden Midsummer Munro medal!
Above: Strava profile of the Midsummer Munro 2019 by Sean Parry. Reminds me of a viscious set of fangs!
---
15th Midsummer Munro 2018
20 hills in 2018 in 29°C!
"So hard, so brutal. I absolutely loved it."
Very good effort from everyone involved!
Special thanks to the wonderful marshals, without whom the race could not have taken place: Cathy Bell, Emma Bud, Susi Calder, Gaz Davies, Martin Hunter, David Jarrett, Jo Kenrick, Michael Light, Sally McCaffrey, Gavin Olsson, Paul Perratt, Gareth Pritchard, Amanda and Steve Rencontre, Martin Riddle, Mark Robinson, Inga Sevastjanova, Gaynor Simpson, Patrick Watt, Chris Wye - Thank you all! Special thanks to Tom Irving, for running the Midsummer Munro, and then going back out to sweep the course behind the final 8-hour Picnic runner!
The 15th Midsummer Munro half marathon took place in mounting heat (up to 29°C for later finishers) on 1 July 2018, with 88 finishers from 120 who originally entered. Most of the places in the overall race had in fact been taken up by those attempting the Final Picnic Marathon, hence the lower-than-usual number of participants.
The race in 2018 featured a new simpler course, which eliminated one long flat bit (from the Smith and Western to Juniper Top), replacing it with an additional shockingly large hill (the Burford Slope, which had to be run twice, once at the start and once at the end). Due to the new course, the times for finishers are not comparable to previous years: new course records were set for both male and female finishers.
Third lady was Natasha Barnes, 31, of Dulwich Paragon, in 2:39:28, while Christine Wakefield, 36, of DMVAC was second home in 2:28:52. First lady home in a new course record was Christina Dimitrov, 33, of Dulwich, in 2:26:41.
For the gentlemen, Jordan Mungovan (31) was third in 2:06:01, and Patrick Burke, also 31, was second in 2:02:50. Andrew Thomas was first over the line, but an error on the course saw him inadvertently miss one of the hills leading to a DQ. This left Iain Harrison, 39, of Striders of Croydon, as the winner of the race, setting the new course record of 1:59:45 - becoming the only person to have completed the course in less than two hours.
Competitors in the race commented on the excellence of the marshals and the very tough course, as well as the convivial atmosphere and sense of camaraderie amongst all competitors.
Results now available. (Can't see them? Dump your cache /history and refresh your broswer).
Rate the race and leave comments 2018 (Runner's World)
See runner ratings and comments (Runner's World)
Steve Rencontre's excellent photos of the Midsummer Munro and The Final Picnic 2018
Steve Rencontre's amusing photo-story of the Midsummer Munro and The Final Picnic 2018
Our photos of the Midsummer-Munro & Final Picnic 2018 on Flickr
Martin Riddle's photos of the Munro/Final Picnic 2018 on Flickr
Video of the start and everyone on the first hill of the Midsummer Munro and The Final Picnic 2018
Quotes of the day 2018:
"Thank you so much for such a fantastic and well organised event. It was my time competing in this one and it was fantastic - the bagpipes were a nice touch and greatly appreciated as were all the marshalls and other helpers...." Christine Rae
"I just wanted to say thank you for organising such a great event today. I did the Munro half today and really enjoyed it. There was such a great feeling amongst all the runners and supporters. The marshals were really good too - giving great encouragement at the water stations. The bagpiper was fantastic too. I can imagine how much effort goes into organising the race and so just wanted to say thank you and I'll be definitely doing it again next year." Chris Marshall
"I just wanted to drop a line to thank you for today's race, and the others you do. I don't think I could have ever conceived being content with a three hour half marathon, today's was so hard, so brutal. I absolutely loved it. Really well organised. Marshalls great, and every other runner so friendly." Paul Anderson
"Thank you for an excellent day out and a chance to visit what felt like every up-hill track in the vicinity of Box Hill. Also, for allowing me to post a 1-hour personal worst... something to be proud of. Another benefit is being able to experience what my 90 year old self will feel like when trying to get moving of a morning." Richard Hall
"Just wanted to say thanks for yesterday's Munro. Great support throughout, great camaraderie amongst the runners, and a lovely day to boot. Even the toilets eventually opened, in good time before the start. The amount of work you must put in to make the whole thing go without hitch is astonishing. Thank you, it is appreciated, and I will carry on running Trionium events as long as I am able!" Martyn Davidson
"The Munro was challenging, brutal, so hard in the heatwave, but I loved it! The euphoric feeling of knowing you have completed Britain's Hardest HM is like no other race I have done, And I fully intend on signing up for it next year. The entire event was well planned and marshalled all the way around. The support received from the sidelines was enough to keep you going through the tough challenges of this course. I absolutely loved the bagpipes! What a touch! That alone gave me a burst of energy at the half way point. At the end I, as well as just about everyone else doing the race, collapsed from heat exhaustion and I was amazed at how well the team looked after me. They were there within seconds with water/ shade/ everything you need when you have a wobble! I was truly grateful for the after-care; thank you. The picnic post race was also incredible! What a lovely idea. It made sure everyone was sociable before heading home." Joanna Taman
---
14th Midsummer Munro 2017
On 25 June 2017, a bumper field of 180 runners started out in mercifully cool conditions to attempt the 14th Midsummer Munro, Britain's hardest half marathon. Not all were to return: Some cramps and common sense prevailed and there were a number of drop-outs. Coming home in third place for the ladies was Amy Dale in 2:15:23, with Susannah Weiland from Sheen Shufflers in second place in 2:12:13. First lady home and carrying off the bubbly was Andrea Berquez from Team Kitbrox, in a creditable 2:08:08. For the gentlemen, Andy Platt was third in 1:51:08, closly following Daniel Bolsas who finished second in 1:49:37. However, the clear winner was Ross MacDonald in 1:43:41, who had actually come second in a hilly 10k just the previous night, completing that race in 41 minutes. That's quite a warm-up for Britain's hardest half!
Also competing in and completing the race were the supporters of Travis Hansen, who earlier in the year was acutely ill with potentially-fatal Legionnaires' Disease. Travis himself completed the race in a spectacular time of 2:34:55, prooving, if proof were needed, that he is back to rude health. One of his supporters, being unable to run having now next to no cartilage in his knees, started the course at 2am in the pitch blackness, in order to be able to finish with his pals. Now that's a good effort!
Lovely running today everyone - full respect to everyone who took part. Special thanks to the valliant marshals!
See runner comments on the Midsummer Munro 2017 (Runner's World)
Rate the Midsummer Munro 2017 and leave comments (Runner's World)
Midsummer Munro 2017 results (make sure to refresh your browser window - the results for 2017 are there!)
Steve Rencontre's excellent photos of the Midsummer Munro 2017
1 - Pre-race and start
2 - Burford Slope
3 - Stepping Stones (out leg)
4 - Juniper Bottom (out leg)
5 - Turnaround point
6 - Juniper Bottom/Eiger steps (return leg)
7 - Juniper Top and thereabouts
8 - Top of final steps (some going down, some coming up)
9 - Finish and post-race
Steve Rencontre's amusing PhotoStory of the Midsummer Munro half marathon 2017
---
13th Midsummer Munro 2016
Well done everyone on completing the course today!
View runner comments and ratings 2016
Comment on and rate this year's race (Runner's World)
Midsummer Munro half marathon 2016 discussion thread (Runner's World)
Midsummer Munro 2016 Results - make sure to refresh your browser window to see the results
Midsummer Munro/Picnic Marathon Photos 2016
Steve Rencontre's amusing PhotoStory of the Midsummer Munro half and Picnic Marathon 2016
Thought the Midsummer Munro was tough? Try it deaf and partially blind: Read the Inspirational write-up by deaf-blind runner James Clarke
Steve Rencontre's excellent photos:
Pre and early race
Top of the Box Hill steps
Juniper Top 1
Juniper Bottom/Eiger Steps 1
Turnaround/Juniper Bottom/Eiger Steps 2
Juniper Top 2/Trig point
MM finish/Picnickers' second half
Quote of the day 2016: "I am sure you have received many such emails from those who took part in Saturday but I thought I would pass on my own thanks to you and the race marshals. This was the first time I have ever taken part in the Midsummer Munro and, while it was as hard as you warned, it was also hugely enjoyable. I have never run a race where every competitor is so friendly and keen to encourage their fellow runners. The marshals were excellent and the organisation without fault. My thanks to you and the marshals for taking the time to organise this unique and excellent event. I have no doubt that the unique friendliness and camaraderie this event inspires is down to you and the marshals. While my legs may disagree, I look forward to signing up to next year's event. Thank you again." Edward Harper (3rd in Munro 2016)
The National Trust has told us that we cannot use the bottom of the Burford Slope as the start/finish area for the races any more, due to the presence in this environmentally-sensitive area of protected bee orchids. There were also some concerns about traffic congestion at the bottom of the Zig Zag Road.
The start and finish areas for the Midsummer Munro Half Marathon and the Picnic Marathon will now be at the top of Box Hill, next to the Old Fort. Although this means that we will not have the famous long downhill finish, all the races will still incorporate this as part of the course (just not at the end). It also means that we will have much easier (free) parking, and much better toilet, spectator and café facilities.
The Picnic Marathon and Midsummer Munro Half will both need to start together. That will change the race dynamic slightly - the Picnicers will get support in the first half but not so much in the second half.
It was a case of 'Hobson's Choice.' The alternative to these changes was to not organise the races at all!
---
12th Midsummer Munro 2015
Well done everyone who ran today.
HUGE thanks to the magnificent marshals!
Midsummer Munro 2015 results (to see them, make sure to refresh your browser window and/or clear your cache!)
Midsummer Munro 2015 photos (Thanks Gaz!)
Steve Rencontre's excellent photos: Pre-race and start - Burford Slope and Piper - Stepping Stones - Juniper Top (out) - Eiger Steps - Juniper Top (back) - Finish
Early finisher photos (Emma Park)
Steve Rencontre's Midsummer Munro 2015 Photo-Story
Please rate the race and leave comments (Runner's World)
See runner comments on the Midsummer Munro 2015
Midsummer Munro 2015 discussion
Sean Parry's Midsummer Munro race write-up (including apprciation of the '1980s-style' bum bag)
In cool and slightly drizzly conditions, and starting from its new base at The Old Fort at the top of Box Hill, at the ungodly start time of 8am, the 12th Midsummer Munro attracted participants from around the UK and also two adventurous runners from Troyes in France. In total 193 runners started out, with 190 making it to the finish, and with one lady giving up - sensibly - after the first of the ten ascents of Box Hill. Despite a few runners going slightly wrong at the complicated 'forest crossroads' junction, there were many fast times recorded, perhaps partly down to the near-idea running conditions. Third lady home was Polly Rodgers (48) from London in 2:21:52, second lady was Melanie Eyre (34) in 2:12:26, while first lady home - not for the first time of trying in this race - was Jillian Convey (35) of Serpetine Running Club, in a scorching 2:08:25. Third gent home was Henry Keighley-Elstub (43) of Wimbledon Windmilers, in 1:51:29; second man home was local lad Nathaneal Booker (28) of Dorking and Mole Valley AC in 1:45: 17, while first home was the perfectly-named Matthew Munro (38) of Herne Hill Harriers, who has only been running for six months, but who put in a stunning time of 1:43:38 to bring home the Munro title.
Quote of the Day 1: 'Just a quick note to say many thanks for another excellent race today. It sounds like logistics have been especially challenging this year and the effort put into organisation does not go unnoticed. The change of start location in no way diminished the challenge and enjoyment of the race. Another cracker! I've now run a good many Trionium races and am always impressed by the positive atmosphere the volunteers and organisers create. I look forward to running & volunteering at runs in the future!' Barney
Quote of the day 2: 'Gratuitously difficult...' Phil Mulligan
Photo of the Day 2015 (by Paul Brown): Emma Penfold finishes another Midsummer Munro
A first-time Munro-runner's tale - 2015

Simon Perkin ran his first Munro today and said that he "absolutely loved it and would like to thank all those fantastic individuals who made it happen." Almost to the day, three years ago he was diagnosed with cancer and was awaiting a bone marrow transplant at King's College Hospital in London, receiving at least nine bags of blood and platelets every week. Amazingly, a kind stranger from Germany was found via Anthony Nolan, the donor matching charity. Simon received not just one (the first failed) but a second bone marrow transplant in July 2012. Simon had major complications and received intensive bouts of chemotherapy. When he left hospital in August 2012, he barely had the strength to open a packet of crisps, let alone even contemplate running a mile.

Simon's recovery, however, has been exceptional given that he ran the London Marathon in 3.31, just 18 months after his transplant. Today he completed Britain's toughest half marathon in 2:15:44. He now runs his own health, fitness & nutrition business and visits schools & businesses (free) to raise awareness of the Anthony Nolan blood and organ donation charity: You too can register and save a life via

www.anthonynolan.org/registerandbe

Simon (pictured on the left, with his brother Robin, a 3-time Munroer) says that he will back next year for sure and that he may just have a go at the Picnic - will you be there?
Race write-up - Mark Clawson, Crawley Saints and Sinners
Well done to you and your team - it was a great day. Me and my fellow Saints and Sinners cannot thank you enough for letting us start a little earlier. While it was a bit strange starting off with just five of us, the banter and laughing between us made the first few miles pass really quickly. However, it did not take much longer for the course to start taking a toll on our bodies and the banter and laughs soon changed to silence and groans.
The 2nd half got better as we started to see fellow runners and our smiles and laughs returned when runners commented on how well we were running and how team yellow were 'dominating the field.' The best bit for me was the marshal at around mile 10 who said 'You're doing really well - You are in the top 20!' Wow, me in the top 20! I turned to my gang and said "Hey, there's no need to tell anyone we started 30 minutes before anyone else!'
Four out of the five of us jumped in our cars after finishing and headed over to Hove and arrived with 20 minutes to spare before swapping our Munro race number for the West Sussex Fun Run League Hove Park 5k race number. We were given a hero's welcome by our club members as we joined them at the start line! The earlier start at the Munro meant that myself and James kept our 100% WSFRL race attendance for this year and we are still on track to win the special achievement award. Both James and Iain had run the munro once before: For Tim and Martyn it was their first time, while for me it was my eighth time.
The first question we were asked when we met up with our club members at Hove was 'Would you do it again?' We all agreed, 'Hell Yeah!'
---
11th Midsummer Munro 2014
Midsummer Munro comments and ratings 2014 (Runner's World)
Rate the Midsummer Munro 2014 (Runner's World)
Midsummer Munro 2014 Discussion (Runner's World)
Midsummer Munro results 2014 (if you can't see this year's results, refresh your browser window).
Fantastic write-up (pdf) in Runner's World June 2015, by Adrian Monti
Our photos of the Midsummer Munro (and Picnic Marathon) 2014 (photo credit to Lewis Teftt)
Steve Rencontre's photos of The Picnic and Midsummer Munro 2014 and his Midsummer Munro photo-story 2014
Dan Milton's excellent photos of the Midsummer Munro and The Picnic 2014
On 21 June 2014, midsummer's day, 160 brave and hardy souls set out to attempt the 11th running of the Midsummer Munro half marathon, the hardest in Britain and made harder by the hot conditions (22°C). Out of the Munro and Picnic, two runners sustained injuries after tripping (one rather gruesome image of an injury can be found here) and were treated by the race medical providers, St John Ambulance, while a lady runner badly overheated at the end of the race was taken to hospital to recover. This was a tough edition of the race. First man home was Marc Leyshon in 1:52:06, followed by Francesco Rigodanza from Italy in 1:55:12 and by Paul David in third in 1:57:59. For the ladies, race stalwart MElanie Eyre was third in 2:27:08, Jillian Convey of Serpentine RC was second in 2:25:14 and Lisa Buchanan from Crystal Palace Triathletes was first in 2:19:05.
HUGE thanks to all our excellent marshals.
Quotes of the day:
Many thanks for a fantastic event, in all respects, at the Midsummer Munro on Saturday. All the information we needed beforehand, with minimum communications; beautifully simple, and again minimal, number collection on the day; a wonderful relaxed feel at the start; and that was just the start of the beautiful scenery; great enthusiastic marshalling, and successfully managing to point us in our respective directions; the frequent water; the piper, in prime position to be heard from a long way off; the turn around points at the foot of the slopes, highlighting how one could not do such a race and just stay at the top - but we were doing it and loving it; (and that isn't to take away from the gorgeous loop with the bridge and stepping stones); the nicely designed t-shirt, pint glass and medal; the sandwiches, cakes and carrots, all of which hit the spot perfectly; and finally the thrill of the possible spill (myself included there). As I say, thanks in all respects! I loved it; felt thoroughly challenged during the race; and consequently rewarded thereafter. And now I'm just waiting to see when my legs will start functioning again… Jonathan Davies
Section courtesy Alan Dunlop
---
Well done to all participants in the 10th Midsummer Munro, 2013 - great effort!
HUGE thanks to all the marshals - you did a great job!
On Saturday 22 June 2013, a field of 195 runners lined up for the 10th Midsummer Munro half marathon, the 'hardest half in Britain.' In near-perfect conditions of intermittent light rain and a cooling breeze, and soft but largely dry underfoot, many fast times were recorded (fast for the course, that is). Third lady home was Nina Rismal in 2:23:35 and second home was Jane Morgan of Sheen Shufflers in 2:19:40: First lady home was Maureen Seguin of Serpentine in a creditable 2:18:38.
Third man home was Paul Davies in 1:49:52, while local lad Nathaneal Booker of Dorking and Mole Valley Atheltics Club was second in 1:45:56. More than three minutes ahead of the second-placed finisher, however, was winner Michael Robinson, all the way from Tamar Trotters, who finished in 1:42:08. Chris O'Connor's shoes disintegrated at Mile 5, and he ran the whole of the rest of the course barefoot, despite not being a 'barefoot runner.'
The answer to the question: 'If you have 200 runners and they all say "Hello" to each other, how many 'Hellos' will there be?' is 39,800 (=199 x 200). Well done to the runner who had worked this out by the top of the first hill!
Steve Rencontre's great pictures: Pre-race: Start: Stepping stones (out): Juniper bottom (out): Halfway: Eiger steps (return): Trig point (return): Finish: Post-race:
Kevin Hann's photos (top of the steps)
See runner ratings and comments 2013
Midsummer Munro discussion (RW)
Results now available (make sure you refresh your browser page to see 2013 results!)
Justin Bateman's account of the race - nice!
Photo of the day, above - Catherine Shreeve, Munro finisher 2013: "What was that?"
Quotes of the Day: "There are not many races where I can say I got my jaffa cake and jelly baby strategy wrong, but this is one of them." The Billiam
"Every one who thinks they are a runner should do a Trionium event to find out if they really are." Nick GZ
"A truly absurd event and long may it continue." Muttley
"Never again, until next year." Catherine Brown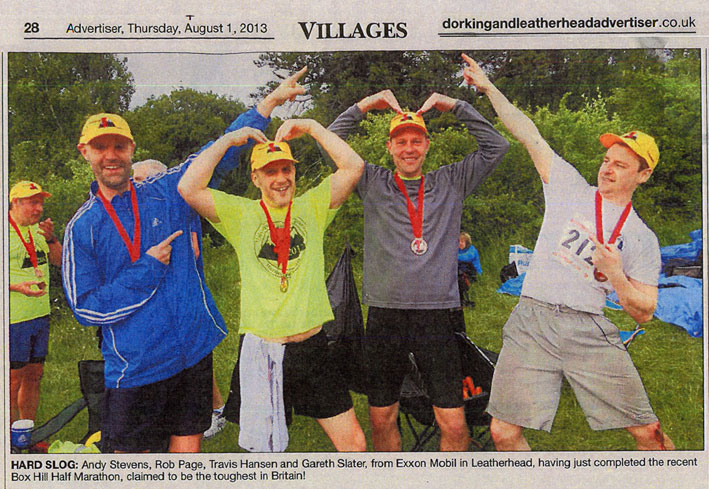 ---
Midsummer Munro 2012 - 'Olympic Course'
Featuring a course of approximately 16 miles in 2012 + 3500ft of ascent and descent
Great race everyone... well dones all round!
HUGE thanks to our super marshals!
First photos (Picnic and Munro combined)
Steve Rencontre's photos - nice!
See Midsummer Munro comments 2012
Below: Beware the Midsummer Munro!
Below: Jason Burke's video of the day (Picnic and Munro) - from his head-cam!
---
Midsummer Munro 2011
BRILLIANT race in 2011!
Thanks to all participants... special THANKS to the marshals:
Midsummer Munro Photos (+ Picnic)
---
Quotes of the day 2010: "T.S Eliot said "If you aren't in over your head, how do you know how tall you are?" and also "Only those who will risk going too far can possibly find out how far one can go." Well, I didn't read the race info before I did this race, and I am glad I didn't because I wouldn't have entered. Having run the race I am so glad I did." Mark Newall
"Run, walk, run, walk, run, run, walk, run, walk, crawl, sprint finish" Simon Thornhill
"The sentence is death, but first a little roo-roo!" Kevin Hannavy
---
Midsummer Munro 2010
Results (make sure you refresh your browser window to see the results)
Race ratings 2010
Add your rating 2010
Our photos 2010 - photo credit to Jonathan Wisbey!
On 19 June, in near-perfect cool and sunny conditions, 256 brave souls lined up at the bottom of the Burfoot Slope on Box Hill, for the 7th running of Britain's hardest half marathon, the Midsummer Munro. Following a rousing rendition of the National Anthem, the runners headed off up hill for the first of 10 ascents of Box Hill and the surrounding hills interspersed with 10 equally-demanding descents into the valleys. Total height of ascent is 3000 feet, and total 'depth' of descent is another 3000 feet, equivalent to running up and down one of Scotland's Munros (from sea level). A number of runners sustained injuries (cuts, grazes, slash wounds etc) but still managed to finish, while three runners dropped out and did not finish. One entrant collected his number but did not start.
On a course which had been slightly altered from previous courses, Eddie O'Gorman (36) from Chiltern Hariers AC set a new new course record of 1:41:30, beating Martin Snodgrass (31 and a native of Scotland) running for local club Wimbledon Windmilers by just over a minute (1:42:40). David Byrne (44) of South London Harriers was third in 1:47:34, beating many a younger man. First lady home was Jenny Philips (45) of Midhurst Milers in 2:06:53 (32nd overall), second lady was Katie Crowe (34) of Crystal Palace Triathletes in 2:12:34 (52nd overall) and third lady was Helen Usborne (33) of Serpentine in 2:16:16 (69th overall).
The course was marshaled by over 40 marshals, which was the highest ever on the course. Runners have expressed their great appreciation for the marshals, without whom the race could not take place. Medical support was provided by St John Ambulance, the race was run with the kind permission of the National Trust, insurance and permitting was provided by UK Athletics, Bob Vowles was the piper, while on-line entry, the discussion thread and invaluable publicity was provided by the ever-excellent Runner's World. Thanks to all!
The race will have raised over £1500 for charity, including Rianna's Fund (which also provided the marshals at the stepping stones).
Richard Elson writes: "Just wanted to let you know I was raising money for charity on the run too and have almost got my target of £1000! I was running for a small charity called '
Maytree
', they are a respite centre for people who are suicidal and
provide counselling and a place to stay to help them recover.
I don't think I've done such a friendly run (or such a hard one!!) In preparation I'd been running up and down my local council estate tower blocks and had got up to 200 flights of stairs per run but nothing prepared me for the Munro!
---
Midsummer Munro 2009
Congratulations to everyone who ran the race in 2009 - excellent effort!
UK Athletics Permit No. 20090315 (2009)
HUGE THANKS to all marshals (esp. Andy, Al, Nicky and Brian - mega marshals!)
RW Discussion on the 2009 race
3-D fly through: (Try it - you'll like it!)
---
Midsummer Munro 2008
Out of a total of 275 registered runners, 168 brave souls started the UK's hardest half marathon at 4pm on an overcast and cool Saturday afternoon. Starting with a steep and morale-sapping super-direct ascent of Box Hill - and greeted by a Scottish piper in full regalia at the top of the first hill - the runners acutally made ten separate ascents of different parts of the hill, with the total ascent (and descent) over 3000 feet. Two runners even managed to run in fancy dress, one as Hiawatha, and another as a city gent, complete with bowler hat, umbrella and briefcase. Wow.
First lady home, and an impressive ninth overall was Claire Donald (49) of Purple Patch Runners, in 2:01:48, while the overall winner of the race was Chris Beecham (39) of Highgate Harriers, in 1:44:43, stepping up one place from his second place the year before. Purple Patch Runners won the team prize, greatly helped by having the first lady home on their team.
Mark Lucas ran the race in aid of the British Red Cross and has raised over £850. Sponsor him here.
The race will make a donation to both Mind and to Samaritans, in memory of Kai Thieroff, a friend of the race organiser. Total charitable donations (National Trust, St John Ambulance, Rianna's Fund, Samaritans, MIND) from the race will total over £1000.
Thanks to everyone who took part. A HUGE thanks to the marshals. Special thanks to Andy Fay, Liz Hicks, Brian, Andy Southern and 'The Davenports.'
---
See event ratings 2008
Discussion on this race 2008 (Runners' World)
---
Photos 2008 - special thanks to Gareth Davies
Race Video (12Mb - low resolution) (70Mb - high resolution)
See alsoYouTube - Midsummer Munro The Movie , The Start , Winner interview , first lady , Bear-fight guy , lady competitor
---
What the runners said - 2008 (thanks to RW thread)
A cracking race, my 2nd time and bettered time by 20 minutes. Excellent organisation and a welcoming picnic at the finish.
What you think is going to be an ordinary race morphs into something extraordinary from the moment the runners congregate at the start. Form surreal anthem singing, to a collective 'Happy Birthday' tribute to the organiser's Mum (that's all before the start!), to a Scottish piper in full regalia at strategic points on the course, this never ceases to entertain. Superb support by the marshalls and St Johns people with massage/a picnic at the end, and a video of the whole shaboodle on You Tube, the extra features add to the entry value, with a good contribution to a worthy charity out of the takings as well. Finally, the spirit of the competitors themselves was evident throughout. Despite being last runner for 90% of the race, the supportive comments from the rest of the competitors (and marshalls), and even the raceleaders themselves (that doesn't usually happen), on the 'out and back' section was inspirational.
Still having nightmares about the steps...Fabulously suicidal, magnificently masochistic, a wonderfully stupid way to spend a Saturday evening. My first time and I'll definitely be doing it again. Plenty of encouragement from Marshalls, supporters and fellow runners. Managed a finishing sprint (or a controlled fall) down the final hill and felt fantastic. Generally wonderfully organised, although there was an absence of marshalls at one crucial point resulting in a few runners doing an extra hill. However, I'm sure Dr Rob was very embarrassed by it and won't let it happen again. The route is very friendly, but I wouldn't recommend it for beginners as it's so very tough. I'll be back for the Knacker Cracker and the Munro next year!
The nuts. Best and hardest race ever done. Still not recovered
Outstanding race!
T-Shirt and Medal - What a result
Great race; it's what keeps runners running.
Excellent atmosphere to ease a big challenge - marshalls with a great attitude. A humorous introduction at the start from Dr Rob helped establish a very friendly atmosphere throughout the afternoon. I'm a bit of a republican so although the National Anthem was not agreeable, singing happy birthday was a suitably positive and rousing way to start the event. The hill seemed to get steeper as the race progressed. And the prize-giving and picnic at the end were a real pleasure. A privilege to participate. BIG thanks to excellent marshalling - great attitude.
An extremely agreeable trot through some beautiful countryside with some very friendly people. If you havent done this race before, do it and dont be put off by everyone telling you how hard it is. It is challenging but if you train on hills and pace yourself you will enjoy the experience, particularly with the great atmosphere that this race has.
Madsummer Munro 2008 - a marshal's perspective...I have run so many miles in various races around the UK and elsewhere I knew that today was going to be different in so many ways, not least because after failing to register in time for the race I was going to be a marshal! I had the privilege of running in the Knacker Cracker on New Year's day and I was buzzing for ages afterwards! From my experience of that 'little' 10K(!) I was gutted to be missing out on this race but more than happy to help Dr. Rob with this one, I felt I kinda owed him one for starting my year with such a fabulous event. Carrying the kit up the hill and setting up the registration desk etc with the other marshals led to actually meeting and greeting the runners and handing out the numbers and sorting out the key drop etc. It is a totally different experience to be on the other side of the desk but a pleasure at the same time to meet so many brilliant people with the desire and fire in their eyes to participate in such a prestigious event. After the race had started I discovered that of the 270 runners who had actually registered only 170 crossed the starting line - amazing... and there I was eager to participate but couldn't!! I was able to video the National Anthem and start of the race for the runners (also on YouTube under RED1028)and then to round it all off I was given the task of taking each of the runners times and positions as they crossed the line (ably assisted by 4 other marshals - thank you). The race winner came over the summit in fine shape and cruised over the line in an unbelievable time of 1h 44m... WOW! Respect to that man and each and everyone of the finishers whatever your time or position, you are all incredible people with amazing characteristics. I must mention Justin from Coulsdon who arrived nearly half an hour late but despite this and being a little stressed collected his number and set off on his own to complete the course and he didn't finish last either! Credit to the city gent, No71, who ran the whole course in a pin-stripe suit, shirt, tie and bowler hat, carrying a brief case and an umberella... Ha ha ha! His pyroeting Ginger Rogers stylie had us in stitches as he descended the hill towards the finish! There was the girl running down the hill at full tilt screaming "I CAN'T STOP!" and the bloke who had run God knows how many miles with a pretty nasty looking cramp, they all crossed the line - TOTAL RESPECT to all of you! The comment that tickled me the most was from one male runner who, with what seemed to be the last breath in his body, said "and don't forget to dip" as he leaned forward to knock a nano second off his time as per an elite 100 metre runner... pure class! I was smiling for ages after that! It's a rare thing in this day and age to pay for something and feel totally satisfied that you haven't been ripped off but with any event that the Trionium crew host you know that you'll get you money's worth... and then some. The organization, rewards and feelings you get, the things that money can't buy, will stay with you indefinitely. Congratulations to all concerned with the 2008 Midsummer Munro, priceless. I am putting my name down for the 2009 Picnic guys, are you mad enough? I do beleive you are!
Sense of satisfaction upon completion priceless.
I ran this last year and thought it was brilliant, so I had very high expectations for the 2008 race - I was not disappointed!
Painful but excellent entertainment
Bloody fantastic & very very very silly indeed!!!
Superb in all respects! Beautiful area, well organised, very friendly, good T-shirt, an absolute cracker...
An absoloute must - a fantastic race: super friendly atmosphere, an open to all pre-race run through, supportive marshalls and fellow runners, stunning scenery...wait, did I mention the hills? This race is one of the best that I have ever done. All the signs were good: a personal and very helpful response to a query that I emailed Dr Rob (the organiser), an open to all pre-race run through and a simple register on the day system. The small size of the field (approx 200) made it feel like you were privileged to be there...and after doing it I know I was. When I arrived at the start people were milling around and chatting around a pair of gazebos, prettily sat on the side of a hill. Very picturesque. The atmosphere was super friendly and relaxed. Odd, considering that the start line was clearly and undeniably at the bottom of a seriously steep hill. A fair few people were actually warming up on it but I figured I had 13 miles to get warm. A mention for the superb fancy dress of one runner at the start line who was dressed as a city gent, complete with bowler hat, briefcase and umbrella. Genius! (Note: I saw him at mile 10 on the course, still carrying the briefcase and umbrella and still looking dapper!) Dr Rob's comedy briefing and sing along really set the tone for the race and we all charged off up the hill. Warning: you will feel godawful when you reach the brow of the first hill...get used to it. En route, the marshals kindly advised us to walk the hills and how right they were - any other approach would put you in danger of burning out by mile 4! What makes those hills worth it? Well, it was really tough so I feel a huge sense of achievement but at the same time, despite the pain, I genuinely enjoyed myself. If you take time to look around the views are stupendous. Fellow runners gave loads of support - quite a rare thing. There were plenty of water stops, lots of sweets and Mars Bars and even better: Lucozade at mile 7, just when you need it. The out and back helps you pace yourself because you know exactly what you have to climb back up. The finish is a heavenly run back down that first killer hill. And to top it off: there's a homemade picnic waiting for you. As you can tell, I am a huge fan and I hope my ramblings have done the race justice. Thanks to the organisers for a memorable day and it goes without saying that I'll be back!
Great race - everything is still aching!
Enjoyed every minute in a sadistic way. Race was every bit as tough as advertised but the friendlyness of fellow competitors and marshall's make this a must do race.Will be back again next year .
Very tough race but atmosphere brilliant and organisation. Awesome race. Hard and hilly but hugely enjoyable in a masocistic sort of way!
A race to make you glad you are a runner. Fab! Just an awesome way to spend a few hours on a Saturday afternoon - I have not stopped smiling! Yes it is mad but that is part of the fun; and it is doable as long as you realise before you start that it will be one of the hardest races you will ever run and treat it accordingly.
Hardest race I've ever done but strangely enjoyable!
Exhausting but immensely satisfying. Well done on organising a fantastic event.Lived up to it's reputation and expectations and then some !! Intend to be back next year. Many many thanks to all the marshals for their encouragement ..marvellous .
Up and down, up and down, up and down...
Fantastic race full of great people
Very very tough course, but so worth it!!!
Yet again a superb day - far more interesting than a road race, friendly, and well organized.
*Ouch* Great day out and the race was nice too.
Was mad as a hatter to have run it but can't wait till next year! Fantastic run, pretty gruelling but the atmosphere and amazing cakes/sammies at the end make it all worthwhile
Awesome hard as nails race - pure agony and fantastic fun! This race should be called the Madsummer Munro! It's easily the toughest, most demanding race I've ever done - and I've run four marathons. The Midsummer is awesome, 100% adrenaline-fuelled madness, from start to finish. Dr Rob must be a legend and it was amazing to sing Happy Birthday to his mum Valerie and the National Anthem before chugging off uphill to a Scottish piper decked out in full Tartan regalia. Steady rain made the descents treacherous and dangerous as runners hurtled downhill and as for the steps and steep climbs - mountain goats would have waved the white flag and turned back!! I've ran up and down hills for the last 3 months - but the final set of spiralling steps at 12mls were total torture. The atmosphere was brilliant, the camaraderie among runners amazing, the totally supportive marshals and volunteers were solid gold and Dr Rob a hero. The Midsummer is the hardest run you'll ever do but it was also fantastic fun, a turbo-charged, lung-busting challenge through beautiful countryside which will stay with you the rest of your life. This is where you find out what you're made of - and if you can look the Midsummer in the eye and beat it you'll conquer any other race in the world!
Simply Amazing - The Hardest Race I've Ever Done! Certainly lives up to its name "The Hardest Half" - a real experience, great atmosphere and sandwiches at the finish! I'm even considering running again next year!
A very painful but friendly way to spend a saturday afternoon
Truly evil course - great race
The steps were a tragedy! This really is a run you have to do before you die, but undercooking the training is not a recipe for enjoyment in the latter stages! I got nasty cramp in my right calf towards the top of the steps for the final time, and took 15 minutes to complete the last half mile! Many thanks to the two runners who halted their own races to massage my overbulged muscles and offer to find a first aider to help - your support and encouragement were more than generous. The marshals were superb once again, and it really makes a difference to support other runners and be encouraged in return, wherever you are in the field. I'll definitely be back to improve on last year's time (I was on course to beat it but the two doses of cramp ensured I missed out by 2 minutes!), but I'll be aiming for the Picnic in 2009 - with much more training!!!
So wrong it's right! The best cake of the year and race too! National anthem, bag pipper, 13.1 miles of hell and a technical tee, who could ask for more! For me its the best race of the year (although I was not muttering that as I climbed the steps for the 2nd time) and a huge credit to Dr Rob. Thanks also to Dr Rob's Mum for the fantastic cake, it help me forgett the pain ;)
Just amazing! hurt like hell but well worth it!! I think the marshalls were some of the best I have come in across since I started running about 10 odd races ago. I hope they realise that I little comment and laughing at one of our stupid jokes they probably hear from everyone really makes a difference and gives runners a fresh spring in our step. I really appreicate it!!!! Dr Rob, great race def be bck next year!
My first time over the distance, I am glad I put the training in ! I knew this would be my kind of race and I really enjoyed it, After some lusty singing on the start line, (Happy Birthday) and the a rousing version of the National Anthem we were off. The first half hour consisted of up, down, stepping stones, up, along about 100 yards and down, followed by, purely for variety, an up. Well I knew this was coming and had reckoned it to be the hardest first three miles, and I wasn't wrong, going past the three mile board just into the woods, my legs felt blown and was struggling. Slowing down into the woods, quite a few people went by me, confirming that I'd probably gone off too quick... turning into the long run down to Juniper Bottom I felt much happier, five miles had gone by and although I knew my 2:10 dreams were a work of self delusion I felt a little stronger. Puffing up the 180 steps to the ridge some loony shot past me going the other way, I was an hour into my race ..... it was quite a few minutes before the next one person ran past, but fair play lads, you were really moving. A welcome drink at the turnaround, and by the time I reached the snowman, I was a little chilly, wet, my legs had started to pinch at the top of my hamstrings but otherwise I was ok. As I puffed back up towards the woods, the cheering crowd of my parents, brother, wife and two kids really gave me a lift and I knew I would finish. I entertained the idea of really pushing the boat out to get a 2:30 finish, but in reality I had nothing left to give, going up from the stepping stones for the last ascent is a real test of character as much as fitness. The finish was fantastic, I felt really pleased with my 2:38 for my first half marathon, and there was TEA & MEDALS just like they promised .....
Best darned half-marathon in the known universe! I did the Leith Hill half, finished on a high and thought I'd enter the Munro. By the time I'd finished London this April I'd done 3 marathons in 18 months and so I'd done nothing but train for marathons for what seemed like forever and was bored of running; I joined a gym and more or less gave up running. Dr Rob's supportive emails frightened the life out of me so I tried to bottle, with a jokey can I bring a torch; Dr Rob's reply of you'll get round and bring a torch gave me no choice. And my goodness am I glad I didn't bottle -it was ace. Hardest race I've ever done -harder than Beachy Head, Tanners and other ultras I've done.
Brilliant scenery ; brilliant Marshalls and fellow runners; fiendish steps ( which I started to look forward to as you could legitimise walking); great picnic and organisation. I'm wearing the shirt now. The 100 people who didn't turn up should be kicking them selves as since the race I've gone from being bored of running to looking for my next race. Thank you Dr Rob! And birthday wishes to your mum. Yet again a fantastic race - well done Dr Robert and team.
Tough but terrific! As ever, a well organised race by Dr Rob with supportive marshalls and the atmosphere helped by other runners. The hills hurt like crazy but this run is about completing, not competing for most of us. A great challenge and look forward to 2009.
Very challenging but worth it, and very well organised
Mad, Mad, Mad but strangely addictive - great atmosphere. Nothing qute like this. National Anthem at the start, singing happy birthday to the organiser's Mum and a Bagpiper on top of a Surrey hill playing in the rain! No amount of training will prepare you for the last sadistic 350ft drop down to the stepping stones and back at 12 miles. Why did 100 people pay £25 to enter then not show on the day? They missed a treat!
The greatest race I've ever run! From the National Anthem at the start, the piper at the top of the hill (twice) to the cakes, medal and t-shirt at the finish, this has to be the best race there has ever been. The marshalls were beyond excellent, they cheered clapped and encouraged me for (my) 2 hrs 40 mins. There is a downside to this race though :-( It's my personal worst for a half marathon. Bring it on again next year !!!
Excellent friendly and challenging race which brings a smile on your face! This was my second time, and I enjoyed it thoroughly! I thought I had run faster, but my Garmin -annoyingly- seems to think otherwise! Marshalls were great and supportive, course was well marked, Dr Rob's organisation was perfect. Great supply of food at the end (had none because am rarely hungry straight after a race- but it looked good!) and on the course (sweets like haribos, jelly baby, Mars bars, Lucozade drinks at half-way station). Plenty of water stations too. One of the friendliest race one can get. The course is challenging and very well marked! I think I was smiling for the most part (?) Great event. Strongly recommend any of Dr Rob's organised event! Thank you!
Mad mad mad. you must be mad to do this race and as it was my 3rd munro that makes me mad mad mad ! once again a well organised event , great encouragement from the marshalls and better still from fellow runners . no amount of training can prepare you for this race but what a feeling when you cross the finshing line , a great sense of achievement . my head told me throughout the race never again .my legs told me this morning never again.. somehow i just know i will be back year for munro number 4 !!! well done rob + team.
As hard as ever, what a great run! See you all next year....
Leg-busting run through gorgeous scenery where everyone is a winner! This was my third time at the Munro and it was as good as ever - in fact better, as along with all the other excellent provisions and goodies, Dr Rob had organised a nice gentle cooling rain. The marshalls were the best yet - such enthusiastic support makes everyone feel like a hero! Will I be back for a fourth go? Of course!
What a bloody amazing way to spend an afternoon...Ok, so the thought of running it, I thought it might be hard, but not this hard, but the pain,sweat and determination is worth it...The marshall on route are FANTASTIC, they are so encouraging (even to those very near the back,me!)....the marshalls themselves are worth the race entry fee....Then there are your fellow 'runners', I have never done a race (apart form the New Years day Knacker cracker) where everyone gives each other so much encoragement, it was just an amazing atmosphere all the way round..Dr Rob, you have got both this and the knacker cracker so rite, both races (I've only done these two) are a credit to you and to the rest of your time...The medal, t-shirt and car sticker are amazing and thank you for the food and drink on route and at the end...JUST AN AMAZING RACE, at least do it once in your life...
Superb from start to finish. All has been said before and I heartily agree. Organisation is floorless, marshalls are exterordinary, value is beyond reproach, route is fabulous, friendliness from everyone and a magnificent achievement. Many other races should take note. For £25 you get loads of marshalls, many water stations with loads of water, sweets and crisps on route, food at the end, lucazade, a brilliant medal, a race t-shirt that looks great, a car sticker and the race fee includes a charity donation. Its all stunning.
An unforgettable running experience. I knew what to expect (having survived the Picnic in 2007), but suffered as the body and mind were given a real test today. The course is designed to include as many steps and hills as possible to squeeze into 13.1 miles. The descents were more frightening than the ascents and I almost went tumbling a few times on the slippery chalk surface. The final set of steps to/from the stepping stones was torturous, but once completed, you knew the worst was over before the nice downhill finish. Despite the toughness, this event leaves you feeling proud and fulfilled for a number of reasons. Finishing is no mean feat, the event brings out the best in the runnners (great camaraderie as you regular meet runners coming the other way as the course doubles back on itself), marshaling was of the highest order (drinks/sweets/mars bars in plentiful supply, nothing but great encouragement even if the "nearly there" comments couldn't have been further from the truth!), the lone-piper played his heart out and it gave me a big lift as I struggled up that first hill and helped me increase my pace at the half-way point. With the scenery there to distract you from the pain, and the many supporters enroute cheering us all on, I came away on a high after such a great day. Thanks to Rob and the team for organising another magnificent event, and great value with a super medal, good quality t-shirt, and the delicious cakes/sandwiches etc. at the finish. See you next year maybe foe the Picnic?!!
For the hero in everyone...This race is not for the faint-hearted. It's not for anyone who cannot deal with discomfort, and it calls for a lot of physical and mental strength, whatever your speed. But if you hear the call, then run this race because you will have one of the most fun and transformative experiences that you can have in running. The genius of the Munro, as with many of the other Trionium races, is that you can pit yourself against yourself and become your own hero, on your own terms. Everyone on the hills will support you: the marshalls, the spectators, the organisers, and - notably - the top runners who can finish this race in well under two hours, but who take the time to say - 'Looking good!' - even to the back runners. The bagpiper who led us off at the beginning of the race and whom we heard again at halfway was grand; the drinks and jelly babies were available frequently; Dr. Rob compered with his usual wit, and the t-shirt and medal are very handsome. Yes; it's tough. I shan't walk normally for days. But if you want to lift your spirits for running, then start with the Knackercracker, move up to the Munro, and - who knows - if you are totally mad, the Picnic runs in 2009!! Dr Rob, marshalls and everyone: thanks for a great day. Bravo. Even the weather was kind! I guess Providence was watching.
Awesome race. Best described as beautifully brutish. A great challenge and all the runners were a great, friendly and very supportive bunch. Well done all, this was a great challenge and everyone was the winner.
Please tell me that I have finished and there are no more steps. Awesome challenge - fantastic. I have never done anything that imposes such relentless stress on my mind and body. There was no respite from the torture and even when a flat bit (it it all relative) you felt obliged to push the pace and suffer more to make up for the bits when there was no alternative but to walk. A run for the true masochist. Organisers, marshalls, food and drinks, sympathy, encouragement - all were available in abundance. Thank you and see you next year :-S
---
---
Midsummer Munro 2007 'best in the UK'
The Midsummer Munro was named the best half marathon in the UK in 2007 (5th overall of a total of approximately 2500 races) by runners voting on Runner's World (as published in the February 2008 edition).
Thanks to everyone who voted for the race!
Thanks to everyone for taking part in 2007
The Midsummer Munro 2007 took place on 23 June: 143 runners completed the course, which had been rendered somewhat slippery in places by a torrential rainstorm half an hour before the start. As runners lined up on the start line, the leader of The Picnic marathon hurtled down the hill, and was given a rousing round of applause by the half-marathoners. He went on to win in 4:23.
At the stroke of 4pm, the runners started off up the hill, in cool and clear conditions, towards a piper, Bob Vowles, stationed on the skyline. Bob was also stationed near the half way point, so that most runners had the rousing benefit of the pipes half way through the race as well.
Various marshals reported that the front runners in the race were 'absolutely flying,' and it turned out to be a hard-fought race at the sharp end, with the first three runners home separated by under four minutes. In first place was Chris Bradfield (M 33) of Datchet Dashers, who finished in a mud-bespattered 1:40:09. He sets a new course record. Second home was Chris Beecham of Highgate Harriers, in a creditable 1:42:23, while in third place was the defending champion, Steve Winder of Epsom and Ewell Harriers, in one second under 1:43:59 (eight seconds slower than the year before).
First lady home was Claire Donald, of Maidenhead AC (and Purplepatchrunning.com) in 39th place overall.
A number of teams competed on the day, and although the team prize was erroneously given to a different team at the event, the winning team turned out to be the locally-based Lucky Numbers (members Steve Bush, Maddy Dykes, Terry Williams and Chris Cooper), who won by less than 1 minute.
The last finishers of the Midsummer Munro came in after 4:14, and were given a rousing reception by the remaining marshals at the finish.
The event - along with The Picnic raised over £1100 for the race charities: The National Trust, St John Ambulance, Cystic Fibrosis Trust, Down's Syndrome Association, and Rianna's Fund. Runners in the race also raised significant amounts for charity, including over £2000 raised for Marie Curie Cancer Care.
Vote/leave comments on the race
---
What the runners said about the race in 2007....
I would just like to thank you for the trouble and care put into making such an amazing race on Saturday afternoon. Despite feeling tired by the top of the first hill, and being completely finished by the top of the steps at White Hill, I was still able to jog along when it was a relatively gentle incline, level, downhill, or wherever there was a camera. Even when I cleverly added half a mile to the route by setting off along the wrong path (by not making the appropriate dogleg at the turn for the penulitmate climb) and having to retrace to the path, I still managed to make the final assault on the never ending wooden steps after the Stepping Stones in no small part because of the spirit of the whole enterprise and the encouragement of others both on the Munro and on the Picnic. I often run at Headley, Mickleham amd Box Hill and did a few practice sessions with step climbs but I have never been up the long valley to the Smith and Western, approached Juniper tops along that lovely woodland path or travelled the entire length of the Juniper Bottom track. The organisation was exceptional, the route imaginative and beautiful, the friendliness of the marshalls and the various helpers was uplifting, and the care taken to ensure that we were all catered for at the end capped off a great afternoon.

Marvellously tuff with a fantastic atmosphere and the best cake! The steps are still giving me nightmares and I spent two days walking up stairs sideways! This is one of my favourite races of all time, although it feels wrong that something this painful should feel so good ;) Hats off to those who ran The Picnic.
Just one of those races you've got to do before you hang up your boots
Hard as nails but unforgettable!!
The best race of the year. After last year's race, i started hill training but it was never enough. the pain and sheer inability to get up those steps at more than a crawl....superb organisation and very friendly atmosphere makes this the best race. I will be back !
'The Hardest Half' name says it all, but what a great experience. Have done it twice and definitely will sign up again next year. Great cakes at the finish....
Tough, tough, tough but well worth it. Great tough, as you can probably gather, course. Organisation was superb, marshalls with their never ending smiles and encouragement were brilliant and the picnic at the end was very tasty. Well done to everyone involved.
Character building stuff in a scenic setting and great atmosphere!
Tough but Soooo Rewarding. Dr Rob has produced another fantastic race, so rewarding and a great runner's race; competition but friendliness that sit equally alongside each other. The boot bag, polo shirt are useful (and great reminders of that June day!). The medal is a bit heavy round the neck though!!! :)
Can't wait for next year! A must for all to try once....
Let's get the excuses over with - 15 mins more than last year mostly caused by plantar fasciitis meaning I had to retreat to the gym for five weeks before the race. That's part of it; the other minor problem was the house (ironically a house with no steps) coming within a whisker of flooding an hour before the race. Got to box hill at 3.55, not entirely as composed as I would have liked, and with lovely damp feet. That all done, the race was superb as ever, Dr Rob & Co. controlling everything like clockwork except the rain - and the consequentially submerged stepping stones on the second pass. I have no doubt I will be back for more self-induced torture, punctuated by the Knacker Cracker in six month's time. I am almost looking forward to trying the Picnic in 2009, such is my obsession with this irresistable and punishing series of runs.

They said it was hard.... and they weren't lying! Excellent race, well organised with plenty of water stations, which would have been vital had it not been a touch damp at times. Pleanty of nibbles at most stations if you could stomach it. Well marked apart from one point where I went wrong, but looking at the track plenty of others had done as well. However that lost time meant I was over 3 hours, still there's always next year....
Many thnks to Rob and the marshalls for braving the rain and putting on this excellent race. I'm already thinking of how I'm going to train for the steps next year.
Superb in every respect, but don't expect a PB! This is my second go at this race and I will be back for more. The organization, atmosphere, scenery, and post race picnic are all superb. Some of the hills are tough but so steep that surely no one runs them in either direction. This is the sort of event that you think about daily for several weeks afterwards, a bit like that first marathon!
Superb race A really enjoyable, but tough race that you feel great having completed. Dr Rob did a superb job organising the event, with several lovely touches like the piper and goody bag tee shirt with every runner's name on the back.
Great scenery. Generally, a must for next year.

Fantastic race Did anyone manage to run up all those steps?! Really great race, in beautiful surroundings, not that I looked around much as I was too worried about where I was putting my feet. I don't understand the significance of the vast quantities of carrots though....
I love this race so much...no, honestly :o) My third time so I knew what to expect but this year just seemed to be bigger and better than ever before.
Best event on the race calendar. Great atmosphere, really supportive runners, extremely challenging course (my legs are still aching!), superbly organised, great finishers pack including an amazing medal..what more can I say other than do it next year, I certainly will be.

A tough but very enjoyable run - very friendly.

One for the diary for 2008 to do again. A fantastic event as ever with some great touches (piper, post-race picnic, t-shirt with all runners' names). Thanks Dr Rob for putting on another terrific event. Did anyone mention the hills and steps ....?
Deserves it's reputation (as a great & tough race). My first time at this race and hopefully not the last. Despite the rain at the beginning,everything about the race made it stand out, organisation, friendliness, support, piper on top of the hill, killer hill start.....If you like a challenge over more 'normal' HM's, this is the beast. I couldn't comprehend before the race what 3000 ft of ascent would be like, but now I do. Initially disappointed to be walking the first set of steps I came to but after a while you realise there's no other way to do it. I kept some in reserve for the second half and although my calves cramped for the last half mile, I made a magnificent downhill sprint at the end, and felt really good. Pleased with 2-18 but aching a little today though! Marathoners were awesome - I overtook one guy on the return leg after a struggle up hill only to realise he was the marathon leader (& eventual winner) - did both circuits quicker than me. Respect. Only minor criticism was on the way back, with a more spread out field, I took two wrong turnings and had to be put right but that's no big deal and a minor detail. A big thanks to all the cheery organisers and fellow 'runners' helping to encourage one another on. Hope to see you all next year. Oh, and the T-shirt (sized), shoe bag and paperweight were great, as was the food at the end. Although expensive to enter, you do get your moneys worth & then some. Well done Dr. Rob et al.
All round excellent race

For the first time in 3.5 years I felt homesick for The Netherlands: nice and flat... Excellent race! Well done, Rob!

Excellent in all categories (except my time)

Great race. Challenging so therefore rewarding. Out and back means you see many runners coming towards you no matter where you are in the field. Fantastic. Great camaraderie and very enjoyable. It is tough so the rewards are great. Piper at the beginning and half way - nice. Goodie bag was brilliant. T shirt with all entrants names on the back and shoe bag and paperweight with plaque. Does it get any better?
Do this race. Just do it. Very well done to Dr Rob and thank you to all my comrades whose names I wear with pride .

Brilliant!!! Worth every penny - a fantastic race, I'll be back for more next year. The Goody bag was also really good - loved the T-shirt.
If you want to race, run the 100m. If you want to experience something unique, run this! If my legs weren't so tired after climbing all the steps, I'd do this again tomorrow! A beautiful, and really challenging course over and around Box Hill. The race set up is simple and straightforward (you collect your numbers on the day), the organiser is a really nice guy who clearly wants everyone to have a good time and enjoy their experience - no matter how long they take. The views from Box Hill are, on a sunny day, truly beautiful - although this year it was a bit grey and cloudy. That word "hill" has popped up again: this is not an easy race, and if you don't like /real/ hills then you won't like this. The 3000ft or so of climb (hence "munro") incorporates several sets of steps, and I challenge anyone to complete the race without walking - a lot! You'll get a real sense of achievement if you run the Munro (you'll probably get certified if you run "the picnic").
Tough but well worth doing although you have to be a bit masochistic to do it. Well organised with great marshalling all the way around. A real spirit of encouragement from all the runners. Thoroughly enjoyed it - well laid out course and great goody bag at the end - decent quality T-shirt and paperweight. Very grateful for the chunks of Mars Bars on the way round. Apologies to Dr Rob for the names I called you when I finished - it was only in jest!!
Fantastic race. Legs hurt (burning sensation) but what a feeling of achievement! And my utter admiration for all Picnic runners! Completely insane!!! Well done! Many thanks to Dr Rob for his brilliant organisation, communication and support! There was so much support/ encouragement between runners, great comradery! Stunning course! Hills are tough, steps are a killer!!! Perfect, I can't wait until next year to it all again (hopefully). Thank u to all runners, marshalls and Dr Rob of course!
Crazy Mental Nuts This is a good race to be able to say you have done - as when they say it is the toughest half marathon in the UK - for once the organizers really aren't joking. They have gone out of their way to figure out what are the hardest and most taxing climbs around Box Hill and then made sure you have to do most of them twice!!!
The UK's toughest and best half!
---
Runner's World Discussion on this race 2007
---
THANK YOU!
The Midsummer Munro was voted the 10th best race in Britain overall (2nd best half marathon after the Brass Monkey Half) in 2006 by runners voting on Runner's World web site.
Thanks to all who voted!
---
Midsumme Munro 2006
RESPECT!
The 2006 Midsummer Munro half marathon (+3000ft ascent and 3000ft descent) took place starting 4pm on Saturday 24 June, around Box Hill, near Dorking, Surrey. Of 150 registered, there were 115 starters and 111 finishers.

Results:
1 Steve Winder (M 35) Epsom & Ewell Harriers 1:43.51 new course record
2 Stuart Mannering (M 31) Maidenhead AC 1:49.16
3 Andrew Houghton (M 48) Unaffiliated 1:49.44 (MV1)

12 Claire Donald (F 47) Maidenhead AC 2:06.54 (First lady) new course record
25 Jane Coles (F 38) Sheen Shufflers 2:20.42
32 Clare Paige (F 35) Headington Road Runners 2:23.02

Last man home was David Milne (M 45), BP Helios Harriers, in 3:39.38.
Team Prize won by The Four Muskateers.
Special 'Big Up' to Tim Gentle who raised over UK£1000 in sponsorship for this race! (See his race write-up)
Also to Julie Harland for 'going the extra mile'
Thanks to Liz and Barbara (food), Ma and Pa, all the guys and gals from Rianna's Fund, Ian, Katie and Sophie, Patrick, Janet, Richard, Dawn, Andy, Sally, Elizabeth and Jemima, Brian, Wade, Margaret, Michael, John, Nicky D, the magnificent piper Stuart Morgan and all other marshals....we couldn't have done it without you!
RESULTS (see also results page)
Our amateur photos can be found by clicking here. (+ extra photos)
Superb professional photos can be seen by clicking here.
---
Why are personal stereos discouraged in the Midsummer Munro?
The course is rather isolated, and spectators will be far and few between. The main support that you will have will be from the other competitors, passing them, being passed, overtaking etc. You will need your hearing to be 'switched on' if you are going to be able to take a full part in the race: competitors in previous years have said that the support and interaction between participants is one of the best things about the race. A personal stereo effectively shuts you off from the rest of the world and the rest of the field - not very friendly. Stereos are not banned - only discouraged.
---
While you are on this site, please register for Trionium Magazine. It's free to download, and includes lots of articles of interest to the hearty runner. Click here!
---
What the runners said about the Midsummer Munro in 2006:
Very, very hard, but well-organised and with a great atmosphere

Awsome. The biggest challenge of my life. Hated and loved every step !!!!!!!!!

Superbly tough - great finish!!! Much harder than I ever ever expected... felt like I was climbing out of Hades on those stairs (twice!!!)... wouldn't change a thing next year though! Great race, feeling of accomplishment to finish. Thanks to Rob and all fellow runners. Absolutely superb...

Never again !! well may be next year.....With out a doubt the toughest run I have ever done. Fantastic encouragement from fellow runners made it seem I knew everyone out there.

Well done to Dr Rob for organising another terrific event. Great marshalls, lots of support from other runners and the piper was an extra special touch! This run makes you hurt like hell but you will want to do it again next year.

A really fantastic event. I've never ached so much, but it was a great 'race' and the organisation was far better than most. A new one to add to my list of repeat events. If you enjoy being off-road you should consider this. Friendly atmosphere, and plenty of encouragement from fellow runners.

Worth every ache, pain, blister and bruise. Proud to have taken part. Every runner should do this once in their life. Physically and mentally the toughest race I've ever done. Found reserves I never knew I had. The heat added to the toughness, but plenty of fluid on-route. Excellent marshalling, always willing you on, keeping up your spirits, providing precious water. Faultless organisation. Ran like clockwork, superb goodiebag (with medal and t-shirt) and great picnic (top cakes). The utmost respect to all involved, especially all those who finished.
Incredibly tough but beautiful course. Very well organised

If you like Hills - You'll love this race! The hardest half marathon I've ever run, certainly a challenge and perversely it was actually fun to slog your guts out up and down Box Hill........

Fantastic Race. The third lot of steps are a killer, but well worth it. Glorious scenery, great comaraderie - made very hard running fun!

"Why did I start running?" Ah, yes, the MM will answer that question! Stunning. I cannot recommend this race highly enough. Really did make me remember why I started running in the first place. The camaraderie, the scenery, the goodies, (even the carrot made me smile!) the watersplash, (great for cooling the legs if you bypass the stepping stones) the spectators cheering everyone on... I haven't had such a big grin on my face after a race for ages!

If Carlsberg did races...it would be this one! Awesome course, great organisation and a fantastic atmosphere. Can barely walk today (Monday) but loved every minute of the race. Doesn't get much better or more challenging than this race!

Hell in the hills, a Surrey Calvary.

Fun, friendly, fresh air and fabulous way to spend an afternoon, plus excellent goodies. I loved it all, even the ****** bits. The bagpiper made my day!

One of the most rewarding runs I've every competed in. Could be life changing for some.

Harder this year due to the hot temperatures. Excellent race, well organised and better marked this year. Thoroughly enjoyable, and on par with the Grizzly.

Beauty and the beast. Glorious scenery on a sunny day, almost took my mind off the pain of the hills; but not quite. Me and the missus knew we were in trouble descending the second hill when all bar the first 4 runners, meeting us on the way up, were walking. After the initial climb and subsequent 2 climbs it does get a bit easier with a nice section through the forest. The drinks and feeding stations were frequent and well provisioned and the marshalls were superb. On a very hot day there was little risk of dehydration. The piper at the start and half way point was a nice touch. If you can manage a half comfortably and want a challenge give this one a whirl. Accommodation - Premier Travel Inn at Epsom is a handy overnighter. Footwear - ground was bone hard so road trainers were A-OK despite it being offroad.

Will test your training and your determination, and reward you with a sense of achievement and great views. For those without private transport, a great out of London race and very convenient access by train. Even the fastest will walk sections of this. The out and back course is good as you get to see the rest of the field and never feel like you're running alone. In between the steps, and wrenching hills there is some great nearly level trail running and brilliant countryside views. Drag some mates along and make a day of it.

Really hard, but very enjoyable - until the last three miles! Lives up to the name of being the hardest half in the country.

Absolutely fantastic atmosphere, brilliant organisation, totally awesome race. There aren't enough superlatives to describe this whole event. My thanks go out to Dr Rob and his team for organising such a fantastic race, to all the marshals for a wonderful job well done and to all my fellow runners for their encouragement around the course. It may be the hardest and most exhausting race I've ever done but the feeling of elation at having done it is the best ever. Add on top of all that supporting a worthy cause, the great polo top, the medal, the certificate, the CD, the bag, the food (I wish I'd been physically capable of eating more than a few bites) and it all adds up to one of the best races ever.

A race designed by cheery sadists for enthusiastic masochists, in a wonderful setting, with yummy blackberry tarts afterwards!

Superb day, looking forward to next year. One of the highs of my running career. Don't be put off by the hills and it's tough image. It's a bit of a softee really in that a lot of the hills are so steep that noone can run them in either direction. Having said that you need to have done some hill training to stop yourself grinding to a halt, and my legs are jolly sore today!

Very hard, very challenging, very worthwhile - a classic!

Excellent run full of mixed emotions. At 10 miles luvin it, at 12 miles (steps) hating it, at 13.1 miles can't wait for next year!

A One Off

A race with every aspect - atmosphere, challenge & reward. Superb organisation, very helpful crew and great marshalling. Plenty of encouragement from the marshals on a course were you need every bit of support to see you round allegedly Britain's hardest 1/2 marathon. The course challenges you without respite. This is not a hilly course this is the finest challenge that Box Hill offers. Dr Rob has created one of the best races I have competed in. Despite the pain I'll be back…The atmosphere is excellent and I found a friendly bunch. It was hotter than last year to give added dimension to the challenge. The goody back the best around and now we have a sneak preview into Dr Rob's DJ skills – good album (must be because we are of similar ages!). Looking forward to returning next year, already! Not for the faint hearted.

The best race in the world! This really is the best race ever. It was my second time running it - and it was as good as the first, if not better. The organisation was superb, the marshalls so encouraging, and the value for money fantastic. Where else could you get a medal and a t-shirt and a bag and a CD and a picnic at the end too for such a reasonable entry fee? The snowmen on the hillside were a wonderful finishing touch :-) Well done Dr Rob, this really is a gem!
Dr Rob - you are a star! Another fantastic race. It remains as hard as I recall from the past two years, however, as a race it is up their with my favorite ever, certainly my favorite to finish!!! Great atmos and value for money, I never go to a race expecting anything other than a number but with a goodie bag to die for (top quality shirt) and the best cake ever it is great value. I will be back next year for sure... Thanks Dr Rob - you the man

Fantastic tough race. I would have thought I was mad to register for this, but I am thinking about doing it again. The support from the faster runners was fantastic. I nearly gave up half way up the very first hill it wasn't for Carol, she kept me going all the way round. The support at the end was brilliant. RESPECT big time!!!!

Don't even bother taking a watch. This is all about finishing. Excellent organisation and plenty of well stocked drink stations. The last set of steps were even hard to walk up and seemed to go on forever. Managed to go from a 1.35 PB to 2.28!

That hurt! Another friendly well-run event, congradulations to Dr Rob and all those who helped him. I think my calves are never going to forgive me but next year is a must.

The morning after and everything still hurts, but I feel a strange sense of satisfaction just for having completed. Back next year for a faster time...

Never again! But then again, I said that last year and the year before. It's a brilliant race. Don't need to say anymore, come and see it for yourself next year!We were both hugely impressed by the organisation and the high quality of post race kit.

Thanks and well done. Piper was a nice touch.

Dear all who made this even better than last year, You're all stars. superb event. I shall be back again, next year. I think it is brilliant. Regards...

Many thanks to you and all the team for Saturday's Race. It was a marvellous day out, both socially and athletically. The thought of the Picnic is truly chilling.

The best running day of the year.

I really enjoyed the race despite it being an absolute b*tch!

Many thanks for a very well organised event on Saturday - great fun and a fantastic challenge - the legs are feeling it today!

What an experience!

Had really good time at the Munro and great CD in goodie bag

(From the piper, Stuart Morgan): I was more than happy to puff away (along with everyone else) for such a great cause. I must say, I have never seen such an atmosphere of camraderie at a sporting event - very well done.As usual thanks to everyone involved for a great job.

Thanks for organising a great race. I now realise the real advantage of having completed this run- all other runs will now seem easy by comparison.

Great fun-thanks!

Saturday was a good day, thank you for all your effort. Last year it took me about a week to stop saying 'never again' and switch to saying I would do it again. This year it took only a day for me to decide that I would be back for more. Thanks once again for a great event (and certainly the toughest half I've run!)
---
Race write-up from Mike Troup - birthday boy
The pre-race introduction went something like this: "Welcome to the 3rd Midsummer Munro Madness 1/2 Marathon, the toughest 1/2 marathon on the British mainland. It will take you about 40% longer than your normal 1/2 marathon time. Anyone here who hasn't done a 1/2 marathon? (a youngster puts up his hand ) Well you are mad, but at least I can guarantee that you will do a PB, whereas the rest of you certainly won't. Only 1 runner finished in under 2 hours lst year ( murmurs from the crowd ). Someone here had a birthday yesterday ( I put up my hand ) Name? ( I give it ) Happy birth day Mike! (Applause! ) It's an out and back course, all off road, and narrow in places, so keep to the left as you will be seeing quite a lot of each other as you come and go: remember to give each other encouragement and support."
The course was in fact quite complicated - out and back but a zig zag shape with a couple of doglegs added on in each direction. And the hills? 5 ups and 5 downs each way. Clearly the average hill involved a 300ft gain in height, and some of them were too steep for anyone to run up or down; these consisted of steps cut into the slope to reduce both erosion and the risk of falls. Despite this I noticed a marked variation in how quickly my fellow runners tackled the steps, particularly towards the end. There were several long level or nearly level sections, which were welcome relief. The views from the tops were extensive, the weather perfect. Imagine the best bits of Nowton and Ickworth joined together, but longer and hillier, that's how it felt. Water and lucozade were provided along the route, and it was in general well marshalled, though there were a couple of places where I wasn't sure where to go, and there were also 2 sections where it was possible to take a short cut, intentional or otherwise.
How was it? I can't think of a race where I enjoyed the running - or walking - more. About half the course was in shade, so I didn't feel too hot. I came 15th out of 111 finishers, having got to 1/2 way in 64mins and 10 miles in 100 mins. At the finish the goody bag included a polo shirt, a "respect" medallion, a CD of music to run to, an apple and a carrot(!), and there were cakes and sandwiches aplenty.
The winning time was, I believe, 1.43, the last finiser took 3.39. Some runners shuffled across the finish line, despite the fact that it was at the bottom of a gloriously runnable hill, their legs clearly "gone".
I would put this down as my third most enjoyable race in England, after the London marathon and last year's Keswick Master's fell racing championships. It was MUCH more fun than the Norwich 1/2 marathon, for example, which I have done 4 times. The only downsides to it are the drive to get there, 2 hours, and the entry fee, £30, but it was worth every penny.
Highly recommended, particularly if you like X country, but do some hill sessions before hand, both up and down!
---
Midsummer Munro 2005
With the kind permission of the National Trust, 80 runners completed the Midsummer Munro, Britain's hardest half marathon, on 2 July, around Box Hill, Surrey. The race covers 13.1 miles, and includes 3000 feet of ascent and descent. First runner home in 1:59 was David Ferris (unafilliated), on a difficult course including hundreds of steps and some tricky route finding. This was the first running of the new Munro course, and he sets the new course record. First lady home was Elizabeth Bonell (28) of Gravesend Road Runners, in 2:17, in 10th place overall, again, setting the record for the course. Last man home was Tony Abbott (60, unafilliated), in 4:08.
Thanks to everyone who took part in the Midsummer Munro on 2 July, and to the marshals and caterers (Bob and Bob's mum, Liz).
Excellent professional photos available at http://www.grahamrussell.info/sport/2005/midsummer-munro/index.htm
Results and free photos now available.
Race accounts are now available.
The Midsummer Munro and Picnic raised just over £1000 for the race charities - The Cystic Fribrosis Trust, World Cancer Research Fund and the Disabilities Trust. Thanks again!
What the runners said about the Midsummer Munro in 2005:
(Race write-up by Serpentine Running Club)
Just wanted to say what a cracking half marathon that was. Without a doubt it is the hardest half marathon you will ever undertake.
Great atmosphere around the track not only from the marshalls but also from the other runners. A very friendly race.
The after run picnic was particularly good and hats off to whoever toiled making all those sarnies. The apricot cake was very nice by the way!
Overall a great way to spend a Saturday afternoon/evening. I shall be back next year
That was an AMAZING half marathon and probably the most enjoyable race I've ever taken part in. I'll definitely be doing it again.
Yes, it was very tough, especially those steps, but the atmosphere made it not just bearable but enjoyable too. Thanks to all the other runners for being so friendly, and to the marshalls for their great support and encouragement too.
The organisation was superb - plenty of water, lucozade and goodies to eat on the way round, and the picnic at the end was delicious. The route was well marked, although I did manage a minor detour and fell flat on my face whilst trying to get back on course. But hey, what are a few cuts and bruises?
Full respect goes to all those who ran the full marathon - that must have taken some serious effort and guts. Well done guys (and girls of course)!

I am SO glad I did that - and even more glad that it's over. Fantastic race, beautiful place, friendly people, and every bit as hard as its reputation. I have a new half-marathon PW - around 3.26. Great to get sweeties at the water-stations, and the post-race picnic was fantastic.

I will NOT be doing the Picnic!!! The idea of going round that course twice without stopping doesn't bear thinking about. Respect to all those who did.Another brilliant day, but hard.

Big thanks to Dr Rob, the marshalls, the food makers and of course the other runners.
Especially big respect goes out to those that did the Picnic, I must still be too sane for that!


Never again, I'm moving to a flat so I can avoid steps for the rest of my life.
Resect to everyone who took part.
What a great race.
Well done everyone who gave this madness a go. I for one had a great time. Never done a race like it, everyone was incredibly encouraging. I feel absolutely ****ed now though, saying that I felt like that from about the 10 mile mark.
Respect to everyone who gave it a go. Top race.

Top run. Very tough but great fun. My quads are suffering this morning. Hope to be back next year for more pain.
Just to say thanks for a really great race ... everyone was so friendly and the atmosphere was
brilliant - hopefully I'll be back next year or may even make the Knacker Cracker.

That was how a race should be - I really can't think of any way you could improve it. Tough course, lots of lovely hills, clearly marked course, friendly runners and marshalls, plenty of water, jelly babies (my favourite!), a useful momento (including the carrot!) and the biggest sense of satisfaction ever!
A brilliant day out - I will be back!As I said on the day I was really impressed with the pre race information and communications. You and the team followed this through with tremendous execution on the day.

A great course with great atmosphere, one of the friendliest events I've been to for years.


Just had to write a quickie to congratulate everyone for making it a great event. (can't call it a race, from my perspective I only ever saw folk going in the opposite direction, ) I was staggered to discover I was the oldest female finisher. That surely deserves a bit of Munro magic! and I wasn't even last. I ate my carrot on the way home, having decided against having it gold plated as a memento.

I would just like to thank you; and everyone else involved,in putting on the Midsummer Munro.
It was a thoroughly enjoyable; amiable and 'challenging' experience (my legs on Sunday, knew where they had been on Saturday!); and one that I hope to coax a few running pals into participating in next year.

Hard event but friendliest I've been to for years
The hardest race I have ever done, even my arms and shoulders ached which is a new one on me! Having said that I was chuffed to bits when I finished it and have been boring everyone about it since.

The most difficult physical challenge I've ever taken on; I'm still hobbling about 4 days after! Makes the London Marathon seem easy now. A great run (in retrospect!)
Great race - picnic was a really nice touch too.

Definitely not for the feint hearted. After I had finished I swore never again, but now I what to go back and do it again
Very tough race! Excellent fun! Finished it 2004 & 2005. Look forward to 2006.
Great views, and hard work up and down the hills - but you don't choose to do this one cos it's easy!
Only gripe is that I got lost twice which cost me a few places, but this is effectively a fell-run, so that's part of the challenge.
Despite being a very tough run, it has a mixed field so you can go at any pace.

Fantastic Race! Definately one of the hardest 1/2 marathons in the UK. I'm aching in places I never thought possible. The support from the other runners was fantastic. Well done to everyone!

They said it was hard - and it was, very hard !! Great experience and well organised.
Longer and harder than last year and all I could do was smile more

A true great race; hard as nails, set to put you off steps for life but the challange and the people will bring me back year after year. Please reserve me a place for 2006 I would not want to miss it... Thanks

Fantastic. Harder and longer than last year - must be the hardest half! I've just looked at the photos. This is the only time I've seen myself smiling in every one. Although it may have been a grimace of pain!. Thoroughly enjoyed myself .

F antastic -most challanging run I've ever done!

The hardest run I've ever done - but one of the most satisfying

Oh My God.................. 5 minutes in and people are walking - it's that hard. Great atmosphere, very friendly, with a definite "all in it together" feel. Shockingly hard but occasionally you remember to enjoy the glorious views. Still at the never-again stage, but ask me in a week and maybe................
Hard, but would certainly recommend it to anyone who fancies a challenge. Brilliant event, support even for 'Us-at -the-tail-end.' we were all winners on this one!
Very hard but very worthwhile

Awesome. Toughest race I've ever done, but an amazing experience! I can't believe that 12 runners actually completed this twice - complete and utter respect! I chose this to improve my hill running - my god, my quadriceps will never be the same again. Amazing experience, fantastic views, ball-breaking hills. Thank goodness for my Camelbak! See you next year.

Second year I have run this and it lives up to it's reputation. Challenging is an understatement though I will definately be back next year. I'm hooked on this one.
This one easily lives up to its claim as being the "Hardest Half", it's an absolute killer. If you want to test yourself then this is the one for you. The field is small but everyone is very supportive. The organisers provide chunks of chocolate at the water stations and there was a sports drink for each runner at the halfway point which was very welcome and badly needed. The hills are incredibly steep, too steep to run up, and others who were out for an afternoon walk looked at us as though we were mad. They may be right!
The hardest half I've ever done - and the one I've enjoyed most!

What we expected & A LOT MORE!! It was built up as hard, challenging, and like no other race, and Rob and the race crew certainly did not disappoint. Exhausting, painful but worthwhile. Will do it again!!

What a feeling of satisfaction and amazement to have completed this race - brill sportsmanship

Enjoy the down hills while they last! Thinking about having a Stannah Stair-Lift fitted in my house after this one. I am sure the scenery is really beautiful but you spend so much time looking at your feet on the descents & trying hard not to look up on the ascents that you don't really get to see any of it. I feel proud of myself just for finishing it. It's the communist wet dream of a race with everyone supporting each other. It would bring a tear to Lenin's eye! I added 58 mins on to my half marathon PB. A very tough mental attitude was required as my co-ordination went going down the steps near the end. Top day out.

Hard, Hard Hard!!!!!!!!!!!!!!
Never again..... until the next time
This is a special race but boy was it hard this year! The changes made to the course definitely made for the hardest half... Got lost but that was my own fault, I should have been watching where I was going. The marshalls and other competitors no doubt make this the friendliest halfs in Britain. This is a superb race but make sure you train for it before attempting otherwise you are in for a difficult time.

Very Hard Half and Very Easy to Get Lost
In full: Worst few hills in the first 3 miles (and therefore the last 3 as it is out and back) although the race is full of them, pleasant scenery plus nice forest trails. Check whether it states route marking has now been fool-proofed (a number of people got lost this year), take a map or chance your arm as I ended up running 20 miles this year, mainly because of the course markings and partly because I am stupid. Other competitor's very friendly and great day out. Don't do it if you are at risk of a heart attack.

A seriously tough race, but what a sense of satisfaction when the finish line was in sight!

This really must be 'the hardest half' - only to be tackled if you like lots of ascents and descents, and in particular, hundreds of steep steps! But the friendliness of the runners and marshalls and the food en roite and at the end make it all worthwhile. Highly recommended!

Staggeringly hard half marathon but very rewarding to finish. Great atmosphere.
Runner's World forum on this race
---
If you enjoyed this race, you may also enjoy the New Year Knacker Cracker (half the Midsummer Munro), staged on 1 January.
Click here to register for updates on the Midsummer Munro, and other Trionium races (no need to register if you have already entered this race or The Picnic)
---
Midsummer Munro 2004
The winner of the inaugural Midsummer Munro was Mark McKay (M 37), with an elapsed time of 1:40:40 (although he reckons that he was lost twice, for a total of about 10 minutes). He set a course record for a course that will not be re-run, since it was changed for the second and subsequent Munros. His record is therefore unbeatable. To him we give major respect.
First lady home was Nicola Kinzett, (F 28), in a time of 2:06:10. She sets the lady's course record. Also major respect for her: we are not worthy.
First team home was the South African Team 222b Merton Road, with an aggregate time of 5:47:33 (first three team members home, to include at least one female). They set the course team record. (It will be hard to beat - awesome).
Last man home was Richard Davies (M 49), in 3:23:30. He gets the wooden spoon, and a huge pat on the back. Good effort.
Full results can be downloaded in Exel format by clicking here.
What the runners said about the Midsummer Munro in 2004:
"What a magic run"
"Awesome"
"Fantastic"
"Easily harder than a full marathon"
"Disgustingly hard"
"Lovely finish"
"Oh, for Christ's sake" (as she collapsed over the finish line)
"A truly fabulous nightmare"
"Great event. It was brutal, but well worth it."
"I can't believe there's a harder half: You've definitely earned the title. I'm looking forward to next year already."
"That race was, without a doubt the hardest that I have ever taken part in. The temptation to miss out the second descent of the steps to the stepping stones was great but I overcame it and can now wear the baseball cap with pride. Many thanks to yourself and everyone who helped organise a truly challenging event.
I'll be back for more."
"Just a short email to say thanks for your organisation of the race yesterday. Whilst it is without a doubt the toughest run I have ever done, the support from the other runners and marshals throughout was great. I am suffering just a bit (!) today but felt fantastic for completing it and look forward to coming back again for another go in 2005."
"Thanks for organising a really hard and great race: never before have I run a race that was so tough. It truly is the toughest half in britain."
"Just a quick note to say thank you for organising such a great event. I have been trying to avoid any kind of ascent since Saturday afternoon including my stairs and I'm considering getting a stair lift fitted. Joking aside the run was an education as to how hard 13.1 miles can be."
"I am in a lot of pain but it was all good fun! I'm very proud to say I was the last girl home in a devastating 3 hours and 8 minutes! It was harder than I ever anticipated but I couldn't stop chuckling to myself all the way round. Thank you to all the helpers and organisers, and thank you to Emma and Chris who I was running with for cheering me on and waiting for me long after I had given up on myself. I'm just pleased I made it to the end!!"
"Managed to get round in 2:38 and without falling off the hill or into the river, quite a feat in itself. This is the only race I've done where my upper body and arms have ached the next day as well as my legs, not sure why!"
"Definitely the hardest half I have ever run. Although every muscle is in pain today I loved every minute of it. I'll be back next year for sure. Many Thanks to Robert and his team of volunteers."
"I hurt too !! Thank you to everyone who helped organise and also to everyone for your support during the run.... runners and non runners ! Couldn't have done it without you. Will definitely attempt it again next year. Perhaps putting in a little more effort with my hill work during training!"
"Fun (no, really) and a big thank you for organising it so well. There was a really nice and informal spirit about the whole event, and the support (drinks etc) was great."
"Thanks a lot for organising this event. Truly enjoyable both in terms of scenery and sheer difficulty of the course. I'd love to participate again next year, should you decide to give it another go!"
"Thanks for organising a great race. I must admit, I thought I was going to die and I suffered a lot the day after. For me, it was a great one-off but probably won't put myself through that again! I'll stick to the flatter ones! BUT, I DID enjoy it, really! Thanks to you and all the volunteer marshalls who were great at keeping the spirits up when it was most needed."
"I really enjoyed the race although, as mentioned by others, it was harder than I could possibly imagine. My legs will need severall days to recover! The atmosphere was very good and people very supportive (both marshalls and participants). I can say that it was the best atmosphere of all races I have done so far."
"Have only recently got into running as I have been cycling for several years. Have never ran 13 miles before and wanted a challenge. I certainly found one! I have ridden in the welsh mountains on several occasions but nothing comes close to last saturday. Without doubt the hardest physical challenge I have ever done but well worth it and will definitely give it another go next year. My thanks to yourselve and all the marshalls for arranging it.
Male, 45, Aching quads, cramps in my calf muscle, mild heat stoke, blisters, insatiable thirst and a candidate for the funny farm for even thinking of taking part!!!!!"
"I promised myself on Saturday never to do it again - but here I am on Monday waiting for the next Munro.Very well organised. Thanks to you and all your helpers."
"What can we say. The race was absolutely fantastic and without doubt the best race we have ever competed in. We never envisaged the amount of pain we are now suffering and yet we can still barely wipe the smile from our faces! Thank you so much for organising this event - we would be delighted to compete again next year."
RESPECT

to all competitors.

Photos from the first Midsummer Munro, 2004
Thanks to Graham Russel for the use of his pictures, above.
---
Organised by Conferio Ltd
mm at trionium dot com