The Greensand Marathon

Dorking - Westcott - Coldharbour - Leith Hill - Somerset Hill - Holmbury Hill- Pitch Hill - Reyards Hill - Winterfold Hill - and back again!
A marathon from Dorking over the Greensand hills to Winterfold Hill and back...
From the Nower in Dorking, run on footpaths and bridleways round the back of Westcott to the start of Woolvens Track, then run up the track to Coldharbour. Take a right hand turn, run past the cricket pitch to the top of Leith Hill, and the Tower. Then, following the Greensand Way, run to Winterfold Hill, taking in the grand views from each of the sucessive summits. Then reverse your route. Simple!
---
---
Click on the image above to download a higher-resolution pdf map (7Mb)
Image produced from the Ordnance Survey Get-a-map service. Image reproduced with kind permission of Ordnance Survey.
---
Steve and Amanda Rencontre's map and profile: (click here to download .tcx Garmin file (2.1Mb) of the Greensand Marathon route)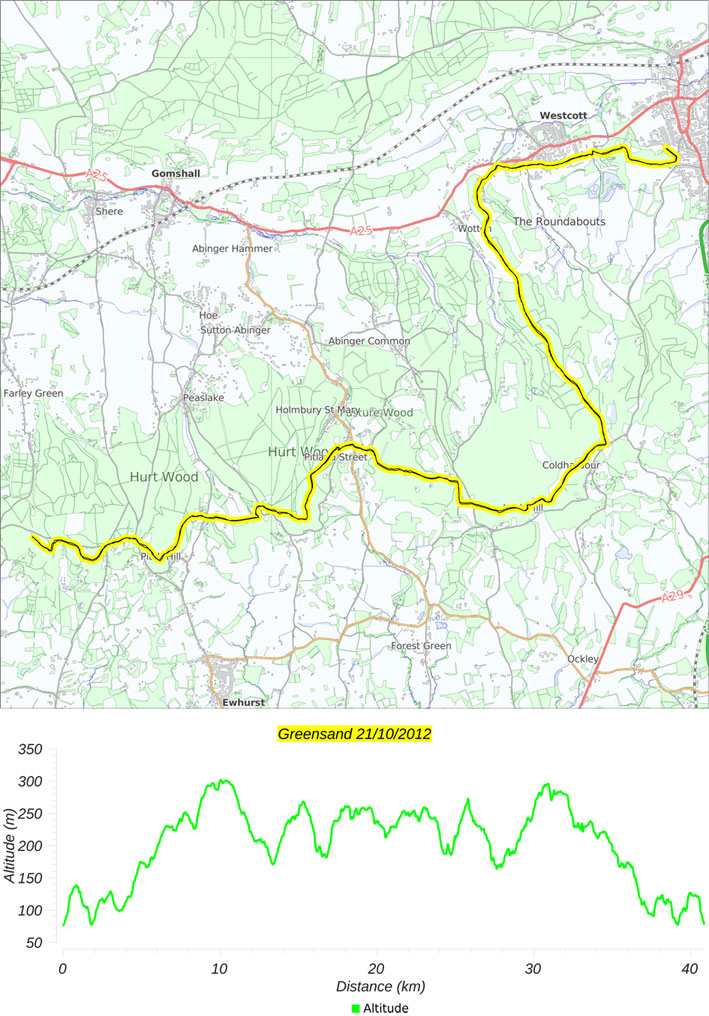 ---
Hill profile for the course courtesy of The Good Run Guide
---
Although there will be marshals on the course, runners are responsible for completing the course correctly.